Hace un par de dias me he llevado una tremenda sorpresa al recibir por correo el libro en donde publicaron una performance de arte realizada el año pasado acá en la ciudad de Belfast, Irlanda del Norte. Esta performance fue realizada como parte de las acciones mensuales del grupo de arte BBeyond. La inspiración para esta performance fue gracias a mi madre, ya que en esos días cumplía un año mas de vida, así que pensando en ella le dedico aquella acción de arte.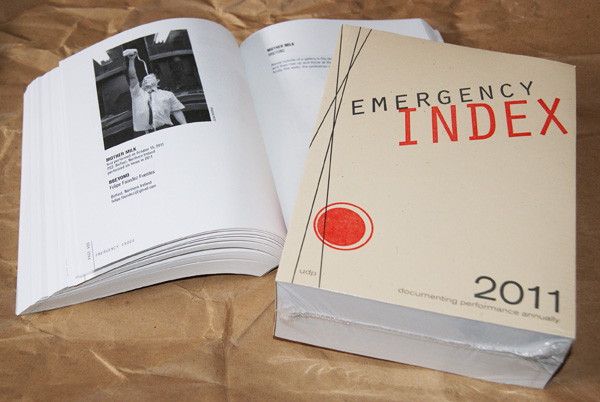 El libro incluye 249 performances de arte realizadas en 27 paises por cerca de 500 grupos de arte, ingeniosamente indexados este libro es una fuente de inspiración ideal para artistas, curiosos o gente en general, ademas de servir de conexión, publicación y difusión del arte del Performance. Aplausos a los editores Yelena Gluzman y Matvei Yankelevich.
Mas info en www.emergencyindex.com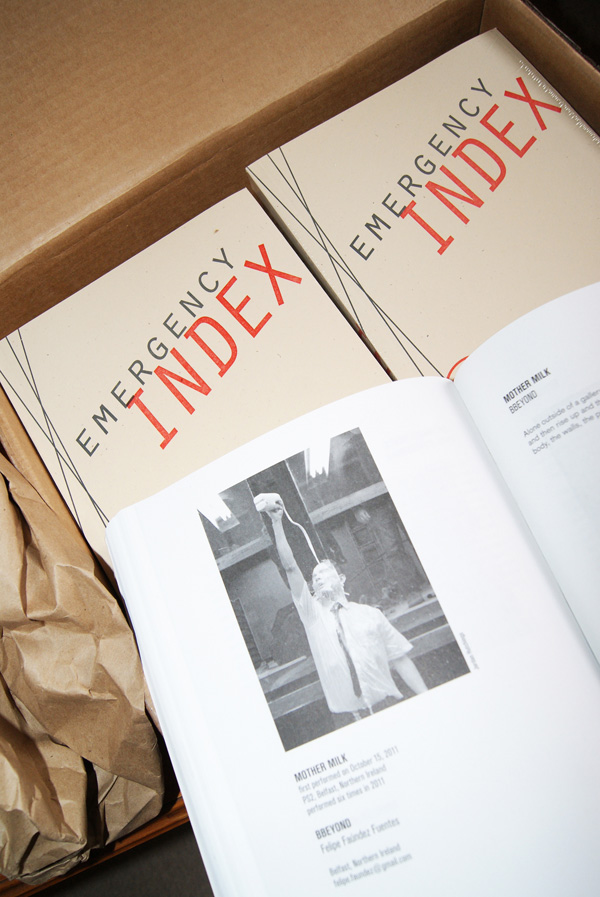 VARIOUS CONTRIBUTORS (2011): Emergency INDEX 2011
Perfect-bound. 560 pp
ISBN 978-1-937027-07-0
Publication Date: 2012
Series: Emergency INDEX
Every year, Emergency INDEX invites authors to document performances they made in the previous year. By including performances regardless of their country of origin, their genre, aims, or popularity, INDEX reveals a breathtaking variety of practices used in performance work as it actually exists today. For readers, INDEX offers a cutting edge view of performance as it is used in dance, theater, music, visual art, political activism, scientific research, poetry, advertising, terrorism, and other disciplines. For artists, INDEX provides an opportunity to document the most important aspects of new work, without the need for spin or salesmanship. For anyone interested in contemporary performance, INDEX is required reading. INDEX 2011 includes 249 performances and a comprehensive index of key terms used to describe them.
Buy now online: http://www.uglyducklingpresse.org/catalog/browse/item/?pubID=217